Guillotine Jointer Machine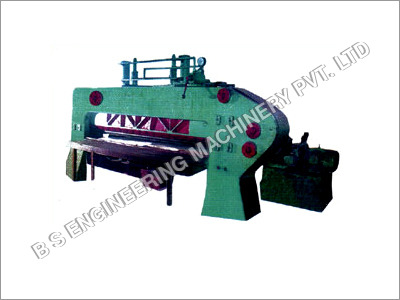 Guillotine Jointer Machine
Product Description
With our massive domain expertise, we are affianced in manufacturing and exporting a wide range of highly reliable and durable Guillotine Jointer for our valuable clients. These machines have gained huge recognition among clients spreading across the markets for their high strength, excellent finish and outstanding cutting facility. Widely used for various cutting applications in the wood and engineering industries, this Guillotine Jointer is specially designed and developed for veneer bunch cutting.
Further Details

The 2600MM Long, 75 to 100MM bunch cutting capacity single cut Guillotine Jointer Machine with Hydraulic Pressure Bar for pressing the bunch of veneers. The device is fitted with worm reduction gear box with 1 No. 7.5 H.P. 1440 R.P.M. Motor for operation of knive bar which operates by the Double Push arrangement of switch and also 1 no. 2.0 H.P. 1440 R.P.M. Motor for driving hydraulic pump. The machine is complete with all electrical equipments having automatic electrical braking arrangement with the help of the magnetic brake. The Parallel Cutting Attachment will be provided for Decoavitve Veneer only and for commercial on enquiry and requirement. This machine is ideal for Veneer Bunch Cutting, to get parallel edges.

Note:
The Machine is also available for 1400mm size in length which is used for core veneer cutting.